Introduction
In the dynamic world of cafes, efficient inventory management is the key to success. It's not just about tracking goods sold or maintaining optimal stock levels; it goes beyond, involving intricate procedures like valuation, turnover tracking, and adjusting to fluctuating customer demand. With the advent of modern management software, understanding raw material usage, maintaining safety stock, and calculating costs have become more straightforward. The digital approach offers real-time visibility, facilitating perpetual and periodic control. A sound management system also aids in managing excess inventory, ensuring adequate MRO inventory, and streamlining counts. Embrace the digital revolution and transform your café's inventory management to enhance profitability and customer satisfaction.
Importance Of Restaurant Inventory Management (R.I.M)
Inventory management involves keeping track of all goods, from raw materials to finished products. Proper management ensures that materials are in good condition and available in the right amount when needed. It's a delicate balancing act; maintaining excess inventory can lead to waste and increased costs while running out of stock can mean lost sales and disappointed customers.
In a café setting, this translates to tracking everything from coffee beans and tea bags to baked goods and dairy products. With the right management system, café owners can easily monitor their stock levels, alerting them when to re-order or when to hold off to prevent an excess inventory. This level of control can greatly influence a café's profitability and customer satisfaction.
The Role Of An Inventory Management System
An inventory management system simplifies the complex process of tracking goods sold, managing stock levels, and anticipating customer demand. It significantly reduces the chances of human error in the count, which can lead to mismanagement of levels and increased costs.
These systems offer real-time inventory visibility, a feature that is crucial in a café environment where stock movement is continuous and rapid. They replace the need for physical checks, making control more efficient and less time-consuming. The system can flag when safety stock levels are low, ensuring there is always a buffer for unexpected customer demand.
Inventory Valuation And Turnover Tracking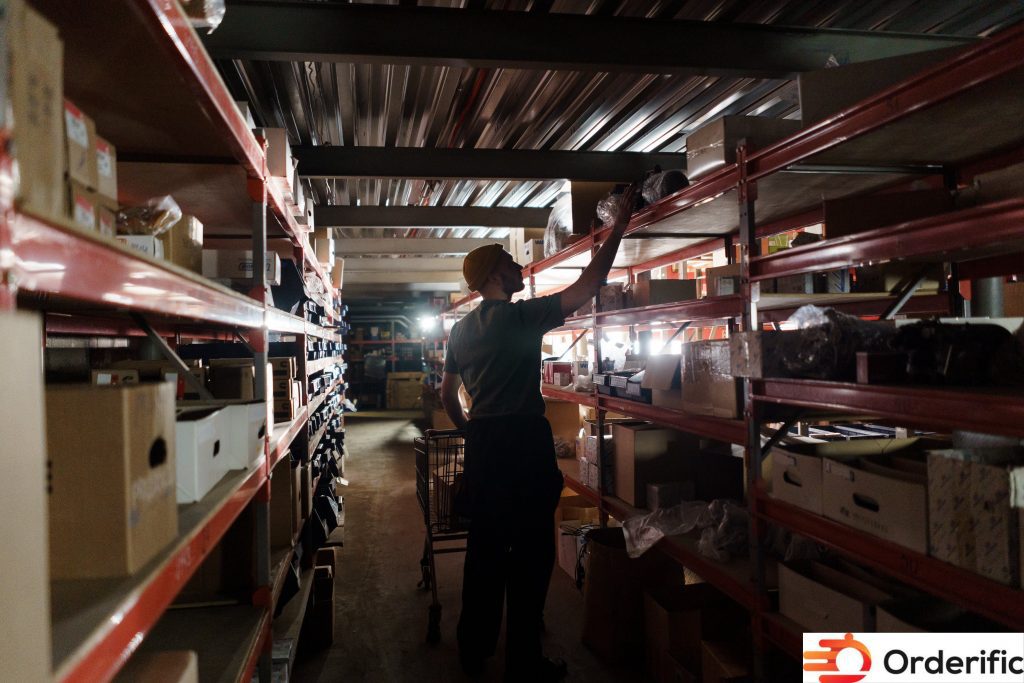 Understanding inventory valuation methods is essential for any café owner. The cost of goods sold and the value of remaining inventory can greatly impact profit margins. Inventory turnover, or the rate at which stock is used and replaced, also plays a significant role in inventory management.
Inventory management software can track this turnover and provide insights into which items move quickly and which ones are taking up valuable storage space. This data can greatly assist in making informed decisions about menu changes or promotional offers to shift slower-moving items.
Perpetual Vs. Periodic Inventory Systems
Inventory management systems can function on a perpetual or periodic basis. A perpetual inventory system updates in real-time every time goods are bought or sold. This constant update provides an accurate, up-to-the-minute view of stock levels.
On the other hand, a periodic inventory system updates inventory counts at specific intervals, such as every week or month. While this system requires less immediate input, it may not capture changes in inventory as accurately or promptly as a perpetual system.
The Impact Of Customer Demand On Inventory
Inventory management isn't just about maintaining stock; it's also about predicting and responding to customer demand. In a café, this could mean adjusting the quantity of certain items in response to seasonal trends or popular promotions.
By monitoring changes in customer demand, café owners can better manage their inventory, ensuring popular items are always in stock while reducing the waste of less popular ones. Effective management, supported by a good management system, can help cafés meet customer expectations consistently, thereby boosting their reputation and profitability.
Restaurant Inventory Management Tips
1. Take Inventory By Hand/Utilize A P.O.S. System
Start by taking inventory manually to understand your café's workflow and to identify any existing issues. Soon after, consider transitioning to a Point of Sale (POS) system. A POS system automates the management process, offering real-time updates, minimizing human error, and improving control efficiency.
2. Assign The Same Staffers To Track Inventory
Maintaining consistency in inventory management is crucial, which is why assigning the same staffers to track is beneficial. Familiarity with the process results in increased accuracy and efficiency. This also aids in identifying anomalies swiftly, contributing to effective control.
3. Keep A Consistent Schedule
Establishing a regular schedule for taking inventory is a critical aspect of successful management. Consistent checks, whether daily, weekly, or monthly, ensure you maintain optimal stock levels and promptly address any discrepancies. This routine aids in accurately predicting customer demand, ultimately contributing to your cafe's profitability and customer satisfaction.
4. Use The FIFO Method
FIFO, or First-In-First-Out, is a principle that ensures older inventory is used before newer stock to minimize wastage. This method is particularly useful in a café setting where fresh products are a priority. By employing the FIFO method, café owners can maintain freshness, enhance customer satisfaction, and optimize control.
5. Create A Food Waste Sheet
A food waste sheet is an effective tool for tracking and reducing waste. By documenting discarded inventory, you can identify patterns and take necessary action to reduce waste. This leads to cost savings, and better control, and contributes to a more sustainable business model.
6. Use Surplus Ingredients
In the event of surplus ingredients, consider creating special menu items or promotions to utilize them effectively. This approach not only reduces waste but also, provides an opportunity for creative culinary experimentation, potentially attracting more customers and positively affecting customer demand.
7. Utilize Past Inventory Insights
Leveraging past inventory insights allows you to understand stock patterns and predict future trends. Analyzing historical data can help you forecast customer demand, manage seasonal fluctuations, and optimally handle your inventory, leading to improved efficiency and profitability in your café business.
How To Take The Inventory For Your Café
Step 1. Create A Table
When taking inventory for your café, begin by creating a comprehensive table. This table should include columns for each item's name, unit of measure, unit cost, and total quantity on hand. By organizing your inventory this way, you can easily track and update each item's status, ensuring you always have an accurate picture of your current stock levels. This not only helps in maintaining optimum inventory but also aids in forecasting future needs based on customer demand and historical data.
Step 2. List The Items
After creating your inventory table, the next step is to list the items. Start with your café's non-perishable goods like coffee beans or tea bags, then move on to the perishable items like dairy products or baked goods. Remember to be thorough and specific in your item descriptions to avoid confusion and maintain consistency in future counts. This detailed list will serve as a fundamental tool for effective control and management, thus crucial for your café's success.
Step 3. Add The Units Of Measurement
For each item on your list, specify the unit of measurement. This could be kilograms for bulk items like coffee beans or a count for individual items like tea bags. It's crucial to maintain consistency in units of measurement for accurate tracking. Remember to update these units as you buy or sell goods to maintain real-time control. This careful quantification will help optimize stock levels and minimize waste, significantly contributing to your café's profitability.
Step 4: Use The Restaurant Inventory Software
Investing in reliable restaurant inventory software is the next logical step in managing your café's inventory. It can simplify the process of inventory control, offering real-time updates on stock levels, predicting customer demand, and automatically calculating costs. With such a system in place, you can significantly reduce human errors, save time, and efficiently manage your stock. Plus, it allows you to make data-driven decisions, boosting your café's profitability.
Step 5. Insert The Unit Price
The final step in setting up your inventory is to insert the unit price for each item. This is the cost you incur when purchasing a unit of each item from your supplier. By associating a cost with each unit, you can keep track of your spending, ultimately allowing you to better manage your café's budget. Moreover, understanding the cost per unit is essential for pricing your menu items, thus directly impacting your profitability. A management system can automatically update these costs, providing real-time financial oversight.
Step 6. Calculate The Total Cost
Finally, calculate the total cost of each item in your inventory by multiplying the unit price by the quantity. This total cost offers a snapshot of the current value of your inventory, and it's a crucial metric in understanding your café's overall financial health. With a robust management system, this calculation can be done automatically, saving time and reducing the risk of errors. Regular tracking of total cost helps you effectively manage your budget, pricing strategy, and ultimately, profitability.
Conclusion
In conclusion, effective inventory management is crucial to the success of café businesses. From maintaining adequate stock levels to predicting customer demand, management impacts various aspects of a café's operations, including profitability, waste reduction, and customer satisfaction. By embracing digital solutions like a management system, café owners can streamline these processes, mitigate human error, and enhance efficiency. Hopefully, these insights provide a comprehensive understanding of the myriad aspects of management in a café setting and the benefits of adopting a digital approach.
Ready to transform your café's management? Reach out to Orderific to schedule a demo and explore how our robust inventory management system can revolutionize your operations and boost your profitability.
FAQs
What is inventory management for cafes, and why is it important for business owners?
Inventory management for cafes involves tracking and controlling stock levels to optimize operations, reduce waste, and increase profitability.
What are the key components of an effective inventory management system in a cafe?
The key components include real-time tracking, predictive analysis for customer demand, and tools for valuation and turnover tracking.
How can cafes optimize their inventory to reduce waste and save on operational costs?
Cafes can optimize by employing strategies such as using a FIFO (First-In-First-Out) approach, creating a food waste sheet, and leveraging insights from past data.
What challenges might cafes face when implementing inventory management systems, and how can they be overcome?
Cafes might face challenges like resistance to change and technical difficulties, which can be overcome through staff training and choosing user-friendly, reliable systems.
What benefits does efficient inventory management bring to cafe owners, staff, and customers?
Efficient management enhances operational efficiency, reduces waste, improves profitability, and ensures a consistent and satisfactory customer experience.