Introduction
Welcome to your ultimate guide to the kitchen essentials list every kitchen needs. As you embark on your culinary journey, you must equip your workspace with the right kitchen tools. From paring knives for precision tasks and immersion blenders for creating smooth sauces to Dutch ovens that perfectly roast meals and measuring spoons for exact ingredient quantities, these kitchen essentials transform cooking into an enjoyable and efficient experience. Discover the joy of slow cooking with a trusty slow cooker or quick cooking with an instant pot. Whether chopping vegetables on a cutting board or toasting bread in a toaster oven, every item plays a vital role. Get ready to explore the kitchen equipment that will have you cooking like a pro in no time!
Everything You Need: General List Of Essential Kitchen Items
1. Saucepan Set
A saucepan set is a must-have for every kitchen, perfect for simmering sauces, boiling pasta, or heating soup. They come in varying sizes, making them handy for multiple culinary tasks.
2. 18 Piece Dinnerware Set
An 18-piece dinnerware set is essential for serving and enjoying meals. Ideal for everyday use, it typically includes plates, bowls, and mugs designed to accommodate a full-course meal.
3. Stockpot With Handles
A stockpot with handles is indispensable for large-batch cooking, ideal for making stocks, stews, or boiling pasta. Its robust design and secure handles ensure safe and effortless handling.
4. Wooden Spoon Set
A wooden spoon set is a timeless and versatile kitchen essential, perfect for stirring, serving, and sautéing, without scratching your beloved pots and pans.
5. Stainless Steel Colander
A stainless steel colander is essential for straining pasta, washing vegetables, or draining canned goods. Its durable design ensures it stands up to daily use in a busy kitchen.
6. KitchenAid Knife Block Set
The KitchenAid Knife Block Set is a vital addition to any kitchen, offering a collection of high-quality knives including a paring knife, all stored neatly in an aesthetically pleasing block. This set ensures you have the right tool for any cutting task, enhancing your cooking efficiency.
7. Baking Pan Sheet Set
A baking pan sheet set is a baking essential, ideal for everything from roasting vegetables to baking cookies. These versatile pans ensure your culinary creations are cooked evenly and to perfection.
8. Vegetable Peeler
A vegetable peeler is a kitchen staple, expertly designed to peel fruits and vegetables quickly and safely, reducing preparation time and making cooking a breeze.
9. Stainless Steel Shears
Stainless steel shears are an indispensable tool in any kitchen, perfect for snipping herbs, cutting meat, or opening food packages with ease and precision. These shears offer high durability and sharpness, ensuring they're ready to tackle any culinary task.
10. Steel Roaster Tin
A steel roaster tin is a key tool for every kitchen, ideal for roasting meats and vegetables to perfection, its durable design ensures reliable use for countless meals.
11. Slotted Spoon
A slotted spoon is an essential tool for draining liquid from foods while serving or cooking, perfect for scooping vegetables out of a boiling pot or serving a stew with less broth. Its unique design ensures you have control of the liquid content in your dish.
12. Silicone Tipped Tongs
Silicone-tipped tongs are a versatile must-have in every kitchen, designed to grip and flip food without scratching your cookware. They're perfect for anything from salad tossing to meat flipping.
13. Glass Mixing Bowl Set
A glass mixing bowl set is a vital tool for any kitchen, perfect for mixing ingredients, serving salads, or storing leftovers. The glass design makes it easy to see contents and is microwave and dishwasher-safe for convenience.
14. Highball Glasses
Highball glasses are a crucial addition to your kitchen, ideal for serving a variety of refreshing beverages, from iced tea to cocktails, adding a touch of elegance to your drinkware collection.
15. Pizza Tray
A pizza tray is an essential piece for any pizza lover's kitchen, providing an even cooking surface for baking homemade pizzas to perfection and serving them with style and ease.
16. Non-Stick Frying Pan
A non-stick frying pan is a must-have for hassle-free cooking, allowing you to sauté, fry, or scramble with minimal oil and effortless food release, ensuring healthy and easy-to-clean meals.
17. Oven Gloves
Oven gloves are an absolute necessity for any kitchen, offering protection from hot surfaces and dishes, and ensuring safe handling of fresh out-of-the-oven goodies.
18. Glass Mugs
Glass mugs are an essential component of your kitchen, perfect for enjoying hot beverages like coffee or tea, with the added benefit of visually appreciating your drink's layers and colors.
19. Non-Stick Grilling Pan
A non-stick grilling pan is a necessity for grilling enthusiasts, allowing you to achieve perfect grill lines on your food while ensuring easy cleanup. It's a versatile tool for indoor grilling of meats, vegetables, or paninis.
20. Cutting Boards
Cutting boards are a kitchen mainstay for preparing ingredients safely and hygienically. They provide a sturdy surface for chopping, slicing, or dicing, preserving your countertops and enhancing the precision of your knife work.
21. Glass Casserole Dish
A glass casserole dish is an essential tool for baking a multitude of dishes from lasagnas to desserts. Its transparent design allows for thorough baking and stylish serving.
22. Can Opener
A can opener is a fundamental tool in any kitchen, designed to open canned goods efficiently and safely. It's a reliable helper when you need quick access to canned ingredients for your recipes.
23. Tea Towels
Tea towels are indispensable in any kitchen, serving multiple purposes from drying dishes and hands to serving as a makeshift pot holder, or covering dough while it rises. These lightweight, absorbent cloths are your go-to companion for a multitude of kitchen tasks.
24. Cutlery Set
A cutlery set is a fundamental part of any kitchen, providing the essential utensils for eating meals, including forks, knives, and spoons. Usually made of stainless steel, it's durable, easy to clean, and designed for everyday use.
25. Wooden Chopping Board
A wooden chopping board is a must-have, providing a sturdy and durable surface for safely cutting, slicing, or dicing your ingredients. Its natural material is gentle on knives, prolonging their sharpness and lifespan.
26. Stainless Steel Box Grater
A stainless steel box grater is a multi-functional kitchen essential, perfect for grating cheese, zesting citrus, or shredding vegetables, making it an efficient tool for various culinary preparations.
27. Electric Kettle
An electric kettle is a time-saving kitchen essential, heating water quickly and efficiently for your tea, coffee, or cooking needs. Its automatic shut-off feature ensures safety and hassle-free operation.
Kitchen Utensil Essentials List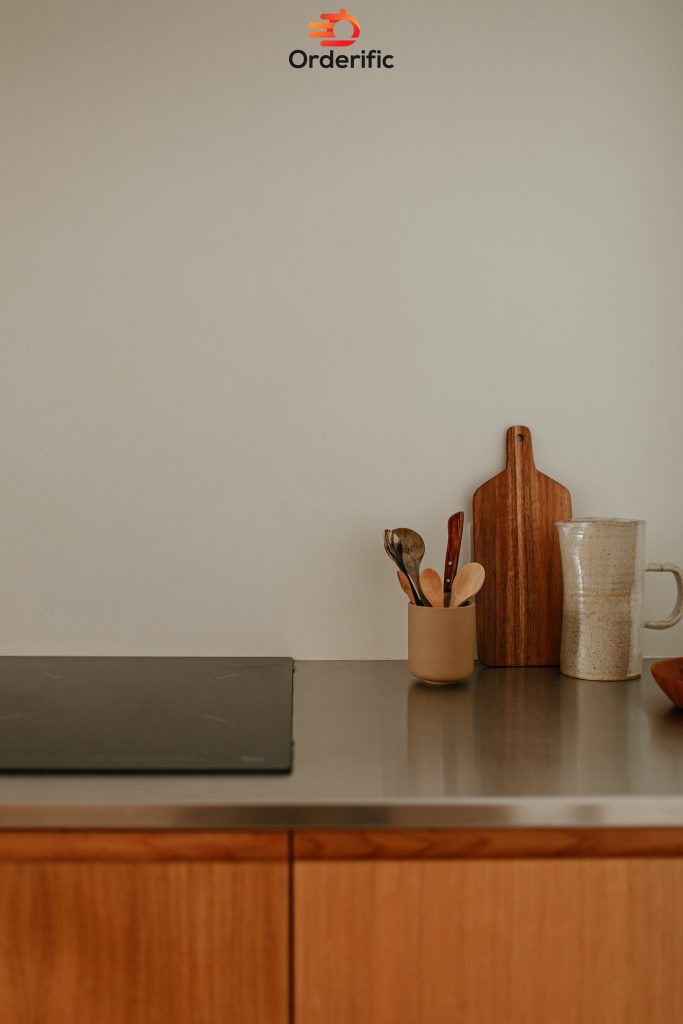 Paring Knife
Immersion Blender
Dutch Oven
Measuring Spoons
Cutting Board
Kitchen Cookware Items List
Non-stick Frying Pan
Steel Roaster Tin
Glass Casserole Dish
Non-stick Grilling Pan
Pizza Tray
Appliances List
Slow Cooker
Instant Pot
Toaster Oven
Immersion Blender
Electric Kettle
Food Preparation Items
Measuring Cups
Rolling Pin
Mixing Bowls
Whisk
Garlic Press
Kitchen Extras
Cheese Board Set – For showcasing an array of cheeses in a classy manner.
Cocktail Shaker – Essential for preparing delightful cocktails.
Wine Opener – Makes opening bottles of wine a breeze.
Pepper Mill – Allows for fresh ground pepper in your dishes.
Bakeware Essentials
Baking Sheet: A baking sheet is a flat, rectangular metal pan used in the oven.
Muffin Pan: The muffin pan is a type of bakeware that features cups where batter can be poured to create muffins or cupcakes.
Loaf Pan: Loaf pans are used for bread baking, but they're also great for meatloaf or pound cake.
Kitchen Storage And Pantry Organization
Food Storage Containers: Keep your food fresh and your pantry organized with these containers.
Spice Rack: An efficient way to store and easily access your collection of spices.
Pantry Shelving: Maximizes space and keeps all your items in view.
Kitchen Cleaning Essentials List
Glass Food Storage Containers – Ideal for storing leftovers or prepped ingredients.
Spice Rack – A handy tool for organizing and accessing your favorite spices.
Pantry Shelf Organizer – Perfect for maximizing space and keeping your pantry tidy.
Serving Essentials
Paring Knife: An essential tool for precision tasks in the kitchen.
Immersion Blender: Ideal for creating smooth sauces and blending hot soups.
Dutch Oven: Perfect for slow cooking and roasting meals.
Kitchen Appliances
Toaster Oven: A versatile appliance for various cooking tasks.
Immersion Blender: A kitchen helper for blending and mixing.
Electric Kettle: Efficient and fast for hot water needs.
Conclusion
In conclusion, equipping your kitchen with these essential items can transform your cooking experience, making it more enjoyable and efficient. From the precision of a paring knife, and the convenience of an immersion blender, to the versatility of a Dutch oven, every item on this list has a unique role in enhancing your culinary journey. Remember, a well-equipped kitchen is the first step towards a satisfying and adventurous home cooking experience. If you're ready to upgrade your kitchen and need help determining the best essentials to add to your collection, visit us at Orderific. You can schedule a demo to discover more about our range of top-quality, reliable kitchen products. Let us assist you in creating the kitchen of your dreams and inspiring the home chef in you.
FAQs
What is a kitchen essentials list?
A kitchen essentials list is a comprehensive guide of must-have items needed for efficient cooking and serving in your kitchen.
Why do I need a kitchen essentials list?
A kitchen essentials list helps ensure you have all the necessary tools for efficient, enjoyable cooking.
Is a kitchen essentials list the same for everyone?
No, a kitchen essentials list may vary based on individual cooking styles and needs.
Can I find pre-made kitchen essentials lists online?
Yes, you can find various pre-made kitchen essentials lists online to suit different needs and preferences.