Introduction
Starting a food truck business involves more than just good food and a catchy name. It's a journey that requires careful navigation of the licensing, compliance, and health codes maze across various regions, such as North Carolina, San Antonio, and Florida. As food truck owners, you need to ensure compliance with local building codes and public health regulations. While essential, acquiring the necessary licenses, from building permits and professional licensing to health care and environmental health compliance, can often feel overwhelming. Even with the best food truck POS system in place, handling code violations and dealing with code enforcement officers can be tricky. But don't let the fear of violation and enforcement deter you. This guide will break down the requirements in terms of licensing, inspections, and regulations, and help you to understand your rights and responsibilities as a property owner.
Food Truck Licenses
Driver's License
Operating a food truck necessitates a valid driver's license. Depending on the size and weight of your food truck, certain states may require a commercial driver's license (CDL). This is not just a legality but a practicality, ensuring that food truck owners are capable and experienced drivers. It's crucial to verify local and state requirements and obtain the necessary license before hitting the road. This important step lays the groundwork for a successful mobile culinary business.
General Business License
The general business license is a fundamental requirement for starting any business, including a food truck. This license, granted by the city or county where the food truck will operate, legitimizes your business and places it under the local government's jurisdiction for tax purposes. Obtaining this license is a critical step in establishing your food truck business. It ensures your operations are legal, contributes to the local economy, and helps build customer loyalty through the assurance of quality and regulatory compliance.
Food Service License
A Food Service License is critical for food truck owners. This license is issued by the local health department and certifies that your food truck meets the necessary health and safety standards for the licensing. The process involves an in-depth inspection of your food preparation methods, storage facilities, and equipment. Ensuring your food truck passes these inspections not only keeps your business in compliance but also cultivates customer trust, contributing to enduring customer loyalty.
Sales Tax License
A Sales Tax License is another key mandate for food truck owners. This license, also known as a Seller's Permit, allows you to collect and remit sales tax to local and state authorities on the goods you sell. It is essential for adhering to financial regulations and maintaining transparent bookkeeping. Just like your food truck POS system helps in managing transactions efficiently, a Sales Tax License aids in keeping your financial affairs in order of licensing, thereby fostering customer loyalty through professional and accountable operations.
Peddler's License
A Peddler's License, also known as a Vendor's Permit in some regions, is essential for the mobile nature of food truck businesses. This license allows you to sell your products in various locations within a specified jurisdiction. The requirements for this license vary widely, so it's important to check with local authorities to ensure compliance. Similar to how a food truck POS system streamlines sales transactions, having a Peddler's License simplifies the process of setting up shop in different locations, hence promoting customer loyalty by providing accessibility and convenience.
Liquor License
If you plan to serve alcoholic beverages from your food truck, you'll need a Liquor License. The process for obtaining this license varies greatly by state and may involve a complex application process, so early preparation is key for the licensing. Having a liquor license expands your offerings and can enhance customer experience, contributing to customer loyalty. Always remember to serve responsibly and adhere to the terms of your license to maintain a positive rapport with the local community and your customers.
Ice Cream Vendor's License
The Ice Cream Vendor's License is an essential permit for food trucks specializing in ice cream and other frozen treats. Restrictions and guidelines around the sale of such items differ by city and state, with some places even requiring fingerprinting as part of the process. Acquiring this license ensures that you're able to legally sell ice cream and helps build customer loyalty by demonstrating your commitment to meeting all relevant health and safety standards. Just like a well-managed food truck POS system, having the correct licenses in place can greatly contribute to the smooth operation of your food truck and the satisfaction of your customers.
Required Permits To Operate A Food Truck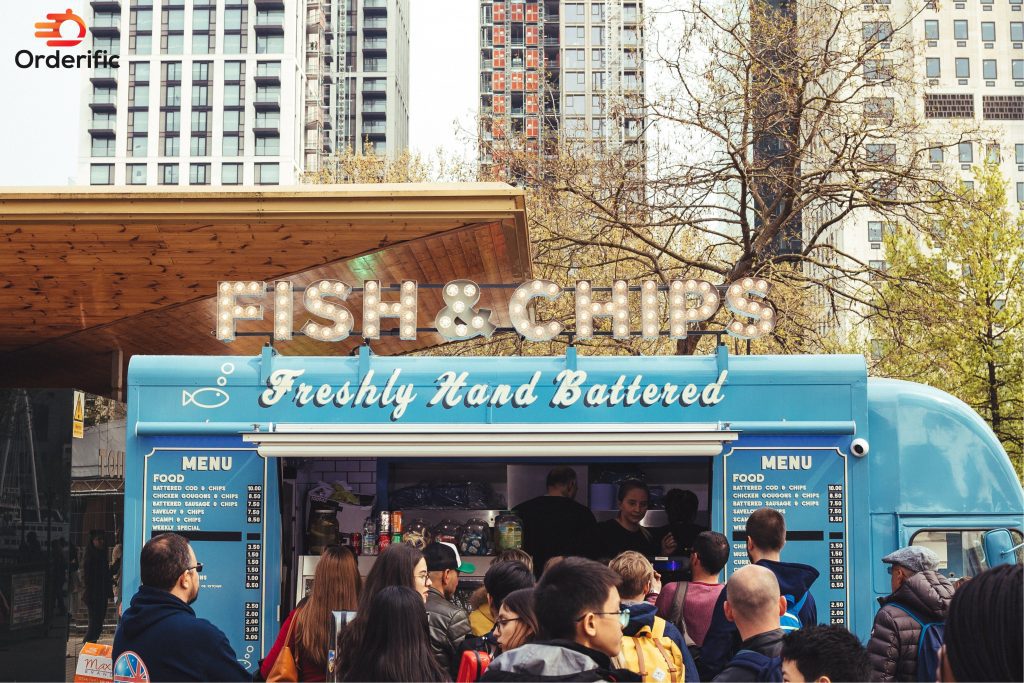 Fire Safety Permit
A Fire Safety Permit is a critical requirement for all food truck operators. This permit is granted by the local fire department after a thorough inspection of the truck's cooking equipment and safety measures. It ensures that you're adhering to fire codes, reducing the risk of fire-related accidents. Similar to a well-functioning food truck POS system, having a Fire Safety Permit in place reassures customers about your commitment to safety and promotes customer loyalty.
Employee Health Permit
An Employee Health Permit is crucial for food truck businesses that employ staff. Issued by the local health department, this permit certifies that your employees have been adequately trained in food handling and sanitation practices. So, Much like a well-integrated food truck POS system promotes efficient operations, acquiring an Employee Health Permit signifies your commitment to food safety and hygiene, thereby fostering customer trust and loyalty to the licensing. Hence, It's essential to uphold this permit's standards, ensuring a healthy and safe working environment for your team and quality service for your customers.
Parking Permit
A Parking Permit is another crucial permit for your food truck business. This permit, issued by local city or county authorities, allows your food truck to park in specific locations during designated hours. These permits are governed by local parking regulations and may vary widely in their terms of licensing. Hence, By securing the right parking permits, you ensure your business operates within the legal framework and maintains customer loyalty by catering to inaccessible and approved locations. So, As your food truck POS system aids in seamless transactions, a Parking Permit ensures smooth operations by avoiding unnecessary parking fines or violations.
Seafood Dealer's Permit
For food truck businesses serving seafood, the Seafood Dealer's Permit is crucial. This permit is issued by local health departments and ensures that your seafood products meet all health and safety standards. Hence, Acquiring this permit demonstrates your commitment to providing fresh, safe seafood, and fostering customer trust and loyalty. Much like an efficient food truck POS system, having the correct permits in place can significantly contribute to the successful operation of your seafood-themed food truck.
Certifications And Food Truck Laws
Truck Registration And Insurance
Just as important as your business license or health permit is ensuring your food truck is legally road-worthy. So, Your truck should be properly registered and fully insured. The registration process may vary by state, with different requirements and fees. As for insurance, it's essential to have a policy covering not just your vehicle, but also your business operations. So, This protects you from potential liabilities, assuring customers of your professionalism and commitment to their safety.
Food Manager Certificate
The Food Manager Certificate is a vital credential for food truck owners. This certification validates that you possess the necessary knowledge and skills in food safety principles. It's not just a requirement but a testament to your commitment to maintaining high sanitation and food safety standards. Much like a reliable food truck POS system aids in seamless operations, a Food Manager Certificate can significantly boost customer confidence and loyalty, ensuring your food truck business thrives.
Commissary Letter Of Agreement
A Commissary Letter of Agreement is a critical document for food truck businesses. This agreement verifies that you have secured a health department-approved commissary or commercial kitchen for food preparation and storage. Furthermore, It's a testament to your commitment to uphold food safety standards. So, Much like a food truck POS system ensures efficient operations, a Commissary Letter of Agreement reassures customers of your dedication to providing safe and quality food, thereby fostering customer loyalty.
Regular Inspections
Food trucks necessitate a complex web of licenses, permits, and certifications to operate legally. From ensuring driver competency through a valid license to maintaining health and safety standards with food service licenses and fire safety permits, each requirement serves a unique purpose. The process may be intricate, but securing these credentials legitimizes your venture, builds customer loyalty, and ensures seamless operations akin to the efficiency of a well-managed food truck POS system. Indeed, the licensing maze is navigable with the right knowledge and commitment.
Foreign Qualification Certificate
In certain cases, food truck owners who plan to operate in multiple states may require a Foreign Qualification Certificate. This document legally permits your business to operate across state lines, providing you with the flexibility to serve a wider customer base. So, Just as a food truck POS system aids in managing transactions across locations, obtaining a Foreign Qualification Certificate can help in promoting customer loyalty and expanding your food truck business. Hence, Always remember to check with the local Secretary of State offices for specific requirements and procedures.
Ongoing Legal Changes
Operating a food truck entails navigating a complex maze of licenses, permits, and regulations. Essential credentials range from driver's and business licenses to specific permits required for serving certain types of food, like ice cream or seafood. The processes for obtaining these may vary widely, but they contribute to the legitimacy of your venture, build customer loyalty, and ensure seamless operations. A well-managed food truck POS system can also promote efficiency, while a commitment to upholding food safety standards fosters trust and loyalty among customers. Legalities can be overwhelming, but with the right knowledge and dedication, they become navigable.
Conclusion
Navigating the licensing landscape for food trucks can appear daunting, but armed with the right knowledge and resources, it becomes a manageable part of launching and operating your business. Furthermore, From ensuring your vehicle is legally roadworthy, to complying with health and safety regulations and acquiring various permits, each step serves to legitimize your venture, promote customer loyalty, and ensure seamless operations. Hence, A well-integrated food truck POS system is an essential tool for managing transactions efficiently and remaining committed to upholding food safety standards is key to fostering trust and loyalty among customers.
Remember, the journey through this maze is not one you have to navigate alone. At Orderific, we're here to assist you every step of the way. So, We invite you to book a demo with us and explore how our services can help streamline your food truck business operations, ensuring you're well-prepared to conquer the road ahead.
FAQs
What is the process for getting a mobile food vendor license?
The process involves applying through your local health department, undergoing inspections, and paying the necessary fees.
Do I need a special parking or location permit for my food truck business?
Yes, you usually need a specific permit to park and operate your food truck in certain areas.
Are there specific regulations for food preparation and storage in food trucks?
Yes, food trucks must adhere to specific regulations for food handling, preparation, and storage to ensure safety and hygiene.
How do I obtain a health department permit for my food truck?
You need to apply through your local health department, pass a food safety examination, and pay the required fees.