Introduction
Welcome to the world of juice enthusiasts, a group characterized by their loyalty and passion for refreshing, high-quality beverages. Building and nurturing a robust customer loyalty program is not just about points or reward systems—it's about cultivating relationships and fostering customer retention for your juice bar. From Starbucks rewards and Marriott Bonvoy to Hilton Honors, successful companies have leveraged their loyalty programs to enhance brand loyalty, improve the customer experience, and stimulate repeat purchases. To echo the Harvard Business Review, loyalty cards are not merely a perk but instruments of engagement, opening avenues for valuable customer data and shaping customer behavior. As a juice bar owner, understanding the nuances of creating an effective loyalty program can be your key to a thriving business, boosting your sales system, customer satisfaction, and lifetime value.
What Are Customer Loyalty Programs?
Customer loyalty programs come in various forms, each with unique potential to attract and retain customers. Understanding the different types and how they work is crucial as an initial step in designing a successful loyalty program.
1. Points Program
The points program is one of the most traditional and widely used customer loyalty programs. Customers earn points for every purchase, which can later be rewarded. Starbucks Rewards is an excellent example of a points program where customers earn stars (points) for every dollar spent, which can be redeemed for drinks and food items. As a juice bar owner, you can implement a similar points program where customers earn points for every juice purchase, encouraging repeat business.
2. Tiered Loyalty Program
A tiered loyalty program offers increasing rewards as customers reach higher tiers based on their spending or engagement. This type of program encourages customers to spend more to reach higher tiers and enjoy better rewards. Marriott Bonvoy and Hilton Honors are examples of successful tiered loyalty programs. Within a juice bar context, a tiered program could offer regular customers access to exclusive menu items or discounts, fostering a sense of exclusivity and enhancing customer loyalty.
3. Paid Loyalty Programs
Paid loyalty programs or premium loyalty programs require customers to pay a fee (monthly or annually) to access exclusive benefits. Amazon Prime and American Express are notable examples of paid loyalty programs. In a juice bar setting, customers could pay a fee to access benefits such as free delivery, priority service, and exclusive deals, further enhancing the customer experience and fostering brand loyalty.
Building A Successful Loyalty Program
Creating a successful customer loyalty program involves steps beyond merely selecting a type of program. The following are essential aspects to consider:
1. Understand Your Customer
Understanding your customer behavior is crucial to creating an effective loyalty program. Collecting customer data can help you understand their preferences, habits, and needs. For instance, a juice bar might find that its customers value fresh, organic ingredients and reward points over discounts. This information could shape the structure of your loyalty program, making it more effective in fostering customer loyalty and retention.
2. Offer Valuable Rewards
Rewards that provide real value to the customer are more likely to encourage repeat purchases and foster customer loyalty. Whether it's a free juice after a certain number of purchases, exclusive access to new flavors, or discounts on their favorite drinks, ensure your rewards are attractive and valuable to your customers.
3. Leverage Technology
With advancements in technology, there are numerous customer loyalty software and POS systems available that can aid in designing and managing your loyalty program. These tools not only streamline the process but also provide valuable customer data, helping you to continually optimize your loyalty program.
Nurturing Your Loyalty Program
Building a loyalty program is just the first step. Nurturing and maintaining it is equally, if not more, crucial. Here are some strategies to keep your loyalty program exciting and engaging for your customers:
1. Regular Communication
Keep your customers updated about their loyalty points and rewards through regular communication. This could be through emails, SMS, or in-app notifications. This not only keeps your customers informed but also prompts them to make repeat purchases.
2. Exclusive Perks And Offers
Regularly offering exclusive perks and deals to your loyalty program members can keep them engaged and feeling valued. For instance, you could offer double points during their birthday month or exclusive early access to new menu items.
3. Seek Customer Feedback
Customer feedback is vital to continually improving and optimizing your loyalty program. Regularly seeking customer feedback can provide valuable insights into what's working and what's not, helping you to make necessary adjustments.
Building and nurturing a customer loyalty program is a strategic process that requires careful planning and execution. However, when done right, it can create loyal customers, boost sales, and contribute significantly to the success of your juice bar.
The Benefits Of Having A Customer Loyalty Program
A customer loyalty program in your juice bar has several benefits, including:
Enhanced Customer Retention: Loyal customers are more likely to return to your juice bar. A well-structured rewards program can encourage them to make repeat purchases.
Increased Sales: By creating incentives for customers to return, you're likely to boost your establishment's sales. Rewards offer a compelling reason for customers to spend more.
Improved Customer Engagement: Loyalty programs offer a platform for consistent customer interaction, which can build a stronger relationship between your juice bar and customers.
Valuable Customer Data: By tracking the purchasing habits and preferences of loyalty program members, you can gain insights to tailor your marketing, improve your products, and enhance the overall customer experience.
Competitive Advantage: A robust loyalty program can differentiate your juice bar from competitors, making you the preferred choice for juice lovers.
Boosted Brand Reputation: A lucrative loyalty program can enhance your brand's reputation, leading to positive word-of-mouth and attracting new customers.
Increased Customer Lifetime Value: Loyalty programs engage customers over a longer period, increasing their lifetime value to your business.
Remember, the key to a successful loyalty program lies in offering meaningful rewards, regular communication, leveraging technology, and seeking continuous feedback for improvement.
How Do You Design And Implement A Loyalty Program For Your Juice Or Smoothie Customers?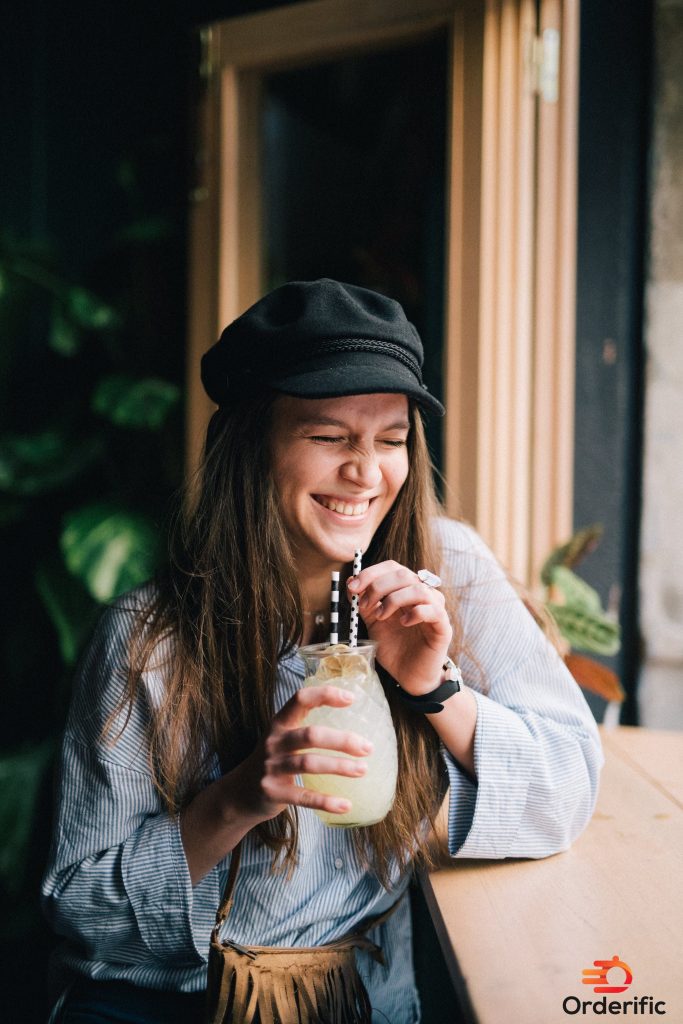 Know Your Customers
Thoroughly understanding your customers is your first step in designing an effective loyalty program. Begin with basic demographic data – age, gender, location, and then delve deeper. What are their buying habits? Which kind of juices or smoothies do they gravitate towards? What time of day or week do they usually visit? This information can be gathered through customer surveys, purchase histories, and social media analytics. Furthermore, identify their preferences when it comes to rewards. Do they prefer discounts, free products, or exclusive access to new offerings? Next, consider their communication preferences. How do they like to be informed about their points and rewards – through emails, SMS, in-person, or via app notifications? The insights derived from understanding your customers will guide you in structuring a loyalty program that is truly valuable to your customers, effectively encouraging repeat visits and enhancing customer loyalty.
Choose Your Rewards
Once you've gained a thorough understanding of your customers, the next step involves structuring your reward system. This will be heavily influenced by your customers' preferences gleaned from your earlier analysis. The rewards you offer should be tangible, valuable, and most importantly, relevant to your patrons. This could include free drinks after a certain number of purchases, early access to new flavors, or discounts on their favorite blends. Additionally, consider incorporating tiered rewards to incentivize increased spending. For instance, customers who reach a higher tier could enjoy added benefits such as exclusive tastings, personalized drink recommendations, or even invitations to special events. A well-crafted reward system will not only foster loyalty but will also enhance your customer's overall experience, making your juice bar their preferred choice.
Communicate Your Program
After structuring your customer loyalty and rewards program, it's essential to communicate it effectively to your customers. A good loyalty program isn't just about rewarding repeat business, it's also a marketing tool that can set your juice bar apart from competition. Use clear, engaging language to explain the benefits and how to participate, whether via in-store signs, on your website, through email newsletters, or social media posts. Leverage every customer touchpoint to highlight the advantages of joining. Remember, the success of any loyalty program hinges on how well customers understand it. Also, consider training your staff to explain the program during in-person interactions, ensuring a consistent message. Regularly updating customers on their points status or tier level can also strengthen engagement. By making your customers feel valued and understood, you reinforce their loyalty, making them ambassadors of your brand.
Engage Your Customers
Engaging your customers is pivotal to the success of your loyalty program. This engagement can be facilitated through exclusive events, personalized offers, and regular communication. For instance, you could host a 'Juice Tasting Event' exclusively for your loyalty program members, enhancing their sense of belonging and appreciation. Personalized offers, like discounts on their favorite juices or double points during their birthday month, can elevate their experience and loyalty. Regular communication via their preferred mediums, whether emails, SMS, or in-app notifications, keeps them informed about their points status and rewards, further encouraging their repeat visits. It's also essential to seek their feedback periodically. This feedback can provide insights into what aspects of your loyalty program resonate with them and areas that need improvement.
By keeping your customers engaged and valued, you can foster their loyalty, increasing their lifetime value to your business. Remember, loyalty programs are not just about rewards; they are an essential tool for nurturing customer relationships and enhancing their loyalty.
Innovate Your Program
Keeping your loyalty program fresh and exciting is key to maintaining customer engagement. Innovation could take the form of new rewards, surprise benefits, or even collaborations with other businesses. For instance, you could introduce a 'Juice of the Month' club, where loyalty members get to try new flavors before anyone else. Alternatively, surprise rewards like a free juice on a random visit can elevate the customer's experience, enhancing their loyalty. Collaborations can also enrich your program – teaming up with local gyms or health food stores to offer cross-promotions can be valuable. Regularly evaluating your program, staying updated with industry trends, and being open to change can keep your loyalty program relevant and attractive, ensuring your juice-loving customers stay loyal. Remember, a well-crafted loyalty program is not static; it evolves with your business and customer needs, continually fostering customer loyalty and retention.
Grow Your Business
A well-structured loyalty program can significantly boost your juice bar business by enhancing customer loyalty, increasing sales, and offering competitive advantages. Begin by understanding your customers' preferences, habits, and communication styles. This will guide the design of your reward system, ensuring the incentives are valuable and relevant to your patrons. Once your program is in place, communicating the benefits and methods of participation effectively is crucial. Use all available channels – in-store signs, website, and social media – to spread the word and keep customers updated on their status.
Types Of Customer Loyalty Programs For Small Businesses
Customer Loyalty Points Programs
Customer Loyalty Points are a popular and effective method for small businesses to boost customer retention. Customers earn points for each purchase, which can be redeemed for rewards or discounts. This incentivizes repeat purchases and fosters a sense of loyalty, as customers are motivated to accumulate points and reap the benefits. A well-structured points program can significantly enhance customer engagement and loyalty, driving repeat business and boosting sales.
Mission-Driven Customer Loyalty Programs
Mission-driven customer programs align business goals with the values and interests of customers. These programs reward customers not just for purchases, but also for actions that reflect the company's mission or values. For instance, a juice bar might reward points for customers who bring their own reusable bottles, supporting environmental sustainability. Such can deepen customer engagement, foster loyalty, and bolster the brand's image.
Subscription Programs
Subscription programs offer customers access to exclusive benefits or savings in return for a recurring fee. This model can generate consistent revenue and deepen customer engagement. For a juice bar, this could include unlimited monthly juices or exclusive access to new flavors. This nurtures loyalty by creating a sense of exclusivity and value for the members.
Community Programs
Community Programs create a sense of belonging among customers by fostering a community around shared interests. For juice bars, this could mean hosting juice tasting events or health workshops exclusively for loyalty members. This not only encourages repeat visits but also enhances customer engagement, fosters a sense of community, and strengthens the bond between your business and its customers.
Refer-A-Friend Customer Loyalty Programs
Refer-A-Friend Customer Programs encourage existing customers to refer new customers to your juice bar. When a referral leads to a new customer, both the referring customer and the new customer could receive rewards. This not only drives customer acquisition but also strengthens existing customer loyalty, as they feel appreciated for their referrals. Moreover, people are more likely to try new places recommended by friends, which can boost your customer base.
Conclusion
In conclusion, implementing a robust customer loyalty program is a strategic move that can significantly fuel the growth of your juice business. A carefully crafted program not only rewards your loyal patrons but also fosters a sense of community, enhances customer engagement, and gives you a competitive edge. It's essential to understand your customer's preferences, communicate effectively, engage them regularly, and keep innovating your rewards program. Remember, at the heart of any successful program is an unwavering commitment to delivering value and a superior experience to your customers.
Ready to take your juice business to the next level? Orderific can help you design and implement an effective loyalty program tailored to your business needs. Schedule a demo today and start building a community of loyal, juice-loving customers.
FAQs
What are the most addictive loyalty programs?
The most addictive programs are ones that offer valuable rewards, personalized experiences, and foster a sense of community among members.
What are the best loyalty program practices?
The best program practices include understanding customer preferences, offering valuable rewards, effective communication, and regular engagement.
What is the function of a loyalty program in marketing?
A program in marketing serves to incentivize repeat business, foster customers, and increase customer lifetime value.
Is your loyalty program profitable?
Yes, a well-implemented program can be highly profitable.
Why is it important to own your loyalty program?
Owning your program allows you to have complete control over your engagement, communication, and reward system, enabling experiences that reflect your brand's values.