Introduction
In today's fast-paced retail industry, the role of Supermarket POS systems, billing software, checkout process goes beyond just billing. Comprehensive POS billing software helps supermarkets streamline inventory management, enhancing customer experience and sales. POS software and billing software work hand-in-hand to manage not just the checkout process but also to keep track of inventory levels, customer data, and payment processing. This modern POS system isn't limited to card readers but includes mobile POS options, offering a variety of payment methods to enhance overall customer service. The best POS systems incorporate features such as customer loyalty programs, gift cards, and even customer relationship management, taking the supermarket business to a whole new level. With the proper POS hardware, sales system, and software, you have more than just a billing tool – it's a comprehensive solution for managing retail business effectively.
What Is A POS System And How Does It Work?
A Point of Sale (POS) system serves as the central component for your business; it's the hub where everything—like sales, inventory, and customer management—merges. As straightforward as the name sounds, it's far more than just a tool for transactions. At its core, a POS system includes a POS billing software and hardware, such as barcode scanners, receipt printers, and cash drawers, to facilitate sales transactions. However, the modern POS system offers far more than these basic functionalities.
When a customer approaches the checkout counter with their chosen products, the barcode scanner reads the barcode on each item, pulling the product's information and price from the inventory database. The POS billing software then adds up the total sales, including tax, and initiates the payment process. Once the transaction is complete, the inventory levels are automatically updated, providing real-time inventory management.
How Does A POS System Work At A Small Business?
Just as it does in larger retail setups, a POS system in a small business operates as a central hub, streamlining operations and enhancing customer service. The POS software captures every sale, initiating payment processing and simultaneously updating inventory levels in real-time. Advanced POS billing software offers more than just transaction facilitation – it integrates with CRM tools, allowing businesses to collect and analyze customer data.
This POS system is more than just billing software; it encompasses a broader retail POS, including features such as loyalty programs and gift cards, designed to improve the customer experience. Even small businesses can leverage mobile POS systems to offer a variety of payment options, including credit card processing, which enhances customer convenience.
Which Types Of Hardware And Software Does A POS System Typically Include?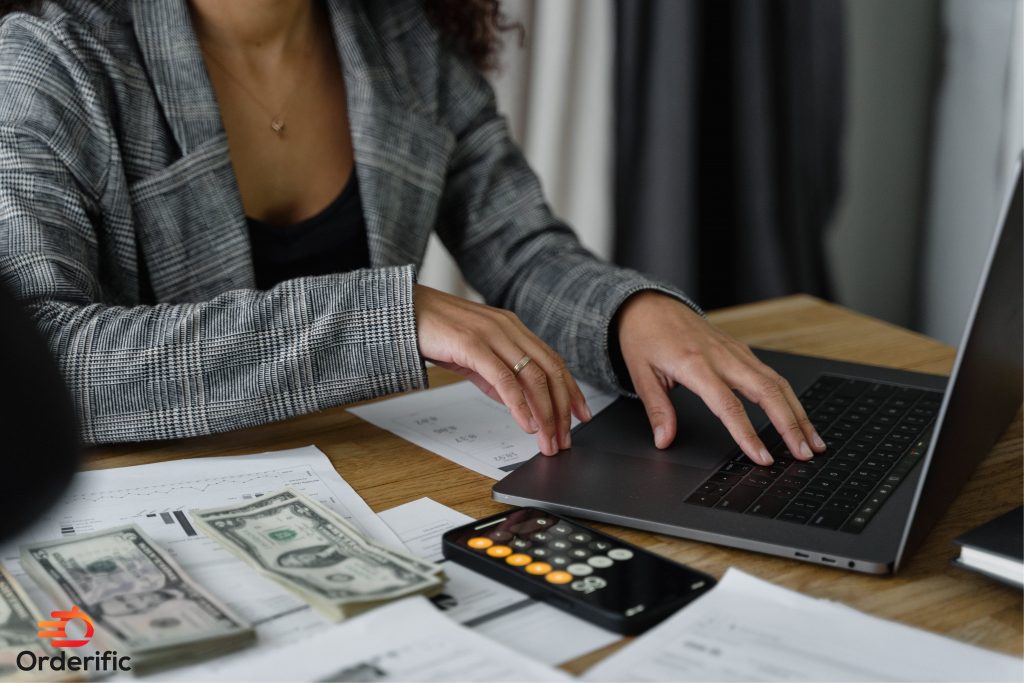 A POS system typically includes hardware and software components that work together to facilitate the retail business process. The hardware components may include barcode scanners, card readers, receipt printers, and cash drawers, all critical for a smooth checkout process. Modern POS systems extend beyond traditional card readers, introducing mobile POS options that provide a variety of payment methods, enhancing the customer experience.
The heart of a POS system lies in its software. POS billing software, for instance, works hand-in-hand with the POS hardware to manage sales transactions, payment processing, and inventory management. The billing software pulls product information and price from an inventory database via the barcode scanner, calculates the total sale including tax, and initiates the payment process, offering payment options like credit card processing to customers.
Common Types Of POS Hardware
When it comes to the types of hardware used in a POS system, there's a wide array of tools that contribute to its functionality. The most common POS hardware includes:
1. Barcode Scanners
These are essential tools for speedy product identification at the checkout. They read the barcode on each item, providing quick and accurate entries into the billing system.
2. Receipt Printers
These devices provide customers with a physical transaction record. Modern receipt printers are capable of printing detailed receipts that include product descriptions, prices, and business information.
3. Cash Drawers
These secure storage spaces hold cash, coins, and checks. They are electronically controlled and only open upon completion of a cash transaction.
4. Card Readers
With the rise of cashless transactions, card readers have become a staple in retail businesses. They read debit and credit cards, facilitating electronic payment.
5. Mobile POS Devices
Mobile POS options have grown in popularity due to their flexibility and convenience. They transform smartphones and tablets into portable POS systems, allowing for transactions anywhere in the store.
These hardware components, combined with effective POS software, make up the backbone of a POS system, ensuring a seamless, efficient, and customer-friendly retail operation.
Save Time With Business Tools That Work Together —And Work For You
In today's highly digital and interconnected world, business tools need to work together seamlessly to maximize efficiency. A robust POS system is more than just a billing software; it's a comprehensive business solution that streamlines operations, from inventory management to customer service and more. POS systems and billing software are designed to integrate with other business tools, providing a unified platform for managing your retail operations. With POS systems, you can track sales and inventory in real-time, understand customer behavior, and enhance the checkout experience with various payment options.
When these tools work together, they save you time by automating processes and reducing manual work. They also provide valuable insights that can help you drive sales, improve customer satisfaction, and grow your business. So, investing in a POS system that integrates with your other business tools is a smart move. It's not just about billing—it's about managing your retail business effectively.
Common POS Software Features
POS software is central to the system's functionality, offering a range of features beyond billing. One of the key features is inventory management. With automatic updates after every sale, businesses can track stock levels in real time, minimizing overstocking and avoiding stockouts. POS billing software often includes customer relationship management (CRM) tools. These allow businesses to create customer profiles, track purchase histories, and implement tailored marketing strategies, enhancing customer retention and loyalty. Additionally, modern POS software includes loyalty program and gift card features, incentivizing repeat business and elevating the customer experience. Payment processing, another imperative feature, provides diverse options like credit card processing, making transactions smooth and convenient for the customer. When integrated with efficient hardware, POS software streamlines retail operations, greatly improving efficiency and customer service.
Payment Processing
Payment processing is a crucial feature of a POS system and plays a significant role in shaping the customer experience. It entails the whole process of the transaction, starting from when the customer presents a payment method to the point where the sale is recorded in the business's books. The POS system should be capable of processing multiple forms of payments, from traditional cash and credit or debit cards to modern digital wallets and mobile payments. This flexibility in payment processing not only enhances customer convenience but also bolsters the business's ability to accommodate a broader customer base. Advanced POS systems are equipped with secure payment processors that ensure all transactions are encrypted, providing customers with confidence in their data security.
Inventory Management
Inventory management lies at the heart of any retail operation, and POS systems play a crucial role in this aspect. By automatically updating stock levels after each sale, POS systems provide real-time inventory tracking. This not only prevents overstocking or stockouts, but also aids in making informed business decisions regarding product ordering and sales forecasting.
POS Reports
POS reports are a significant feature of POS systems, offering a comprehensive view of business operations. They facilitate easy tracking of sales, inventory, and customer behavior patterns. Leveraging data-driven insights from these reports, businesses can make informed decisions, optimize strategies, and ultimately drive growth and profitability.
Employee Management
POS systems also serve as valuable tools for effective employee management. They can track employee hours, calculate commissions, and even manage staff roles and permissions. With these features, business owners can monitor performance, implement productivity measures, and ensure secure access to the system, contributing to a more efficient and streamlined retail operation.
Customer Relationship Management (CRM)
Customer Relationship Management (CRM) is an integral feature of modern POS systems, enabling businesses to gather and analyze customer data effectively. The CRM tools allow businesses to track purchase histories and create customer profiles, helping in the development of personalized marketing strategies. This greatly enhances customer retention and loyalty, fostering a positive customer experience.
Receipts
In terms of concluding a transaction, the issuance of receipts is an essential feature of POS systems. Receipts provide customers with a detailed record of their purchase, including product descriptions, prices, and business details. Modern POS systems can print physical receipts or send digital versions via email, thereby offering flexibility and convenience to both the business and its customers.
Tipping Support
In the service industry, tipping is a significant part of transactions, and a well-designed POS system accommodates this custom. Modern POS systems offer flexible tipping options, allowing customers to add tips directly on the payment device. Whether paying by card or mobile payment methods, customers can easily and discreetly tip, enhancing their overall experience and contributing to staff satisfaction.
Conclusion
In conclusion, a supermarket POS system is far more than just a billing solution. It's a comprehensive business tool designed to enhance customer service, streamline operations, and provide valuable insights into your business. From hardware components like barcode scanners and receipt printers, to software features like inventory management and CRM, a robust POS system integrates all aspects of retail management. It offers real-time inventory tracking, diverse payment options, data-driven reports, and functionality for loyalty programs, gift cards, and much more. In today's digital era, investing in a powerful POS system is not an option, but a necessity for supermarkets to remain competitive and manage their business effectively.
Take the first step towards transforming your supermarket business today. Schedule a demo with Orderific to explore how their advanced POS systems can revolutionize your operations, enhance customer experience, and drive business growth.
FAQs
What are some good point-of-sale system software?
Some reputable point-of-sale system software includes Square, Shopify, Vend, and Lightspeed.
How does the POS system help in shops?
A POS system helps shops streamline operations, manage inventory, process payments, and enhance customer service.
What is a POS terminal and how does it work in retail stores?
A POS terminal is a device that manages sales transactions, processes payments, and updates inventory in real-time in retail stores.
Which is the best online restaurant POS system?
One of the best online restaurant POS systems is Toast POS due to its comprehensive features and ease of use.