Introduction
In the contemporary hospitality landscape, the importance of a robust and dynamic social media strategy cannot be overstated. This guide explores how integrating social media content into cafe management can magnify your brand awareness and reputation. Our focus is marketing strategies that blend traditional restaurant marketing with modern social media marketing techniques. We delve into Instagram stories, social listening, and the intelligent use of different social media platforms to reach your target audience. We'll also offer insights into leveraging potential customers through engaging social media posts and profiles. This approach transforms your cafe's social media presence into a compelling digital marketing tool, ensuring your brand stands out in this competitive industry.
Social Media Strategies for Cafés and Coffee Shops
Creating engaging social media content is the cornerstone of any successful marketing strategy. This also extends to restaurant social media marketing, where the cafe's image is often crafted by the content shared online. A well-planned social media strategy means adopting a content-first approach. This includes sharing high-quality pictures of your menu offerings, customer testimonials, and behind-the-scenes peeks into your cafe's day-to-day operations.
Instagram stories, for instance, make for a compelling medium to share quick and snappy updates, offers, and sneak peeks. They allow you to engage with your potential customers directly, taking them on a virtual tour of what they can expect when they enter your cafe. Pair this with a strong presence on other social media platforms, and you have a recipe for increased brand awareness and visibility.
Harnessing the Power of Social Listening
With technology transforming how consumers interact with brands, social listening has become crucial to a modern restaurant's marketing strategy. This approach involves staying attuned to conversations about your brand on various social media platforms and using this information to shape your marketing and customer service strategies.
By actively participating in these dialogs, you boost your brand reputation and gain insights into what your customers expect from you. These insights can guide you in crafting your social media content further, ensuring it resonates better with your target audience.
Expanding Your Reach With Multi-Platform Engagement
While most cafes have a social media account, the real game-changer is your ability to optimize this presence across multiple social media channels. Each platform has unique strengths and caters to different segments of your target audience. Whether it's Facebook Messenger or Instagram stories, your content should reflect the platform on which it is shared.
A diverse social media presence can be further boosted using tools like Sprout Social, a social media management software that helps streamline your social media strategy. It provides a host of functionalities, including marketing automation and social selling, to help drive your brand's digital marketing efforts.
Building Relationships Through Social Media Marketing
Social media marketing isn't just about driving sales but also about building customer relationships. It's about making them feel heard, valued, and part of your cafe's story. Email marketing campaigns that offer exclusive deals, influencer marketing collaborations, or simply responsiveness to comments and queries on your social media profiles – all contribute to this sense of community.
Remember, each follower on your social media profile is a potential customer who has chosen to stay connected with your cafe. Their engagement is a testament to your cafe's brand reputation and is often the result of well-crafted social media posts and a consistent marketing strategy.
Leveraging Social Media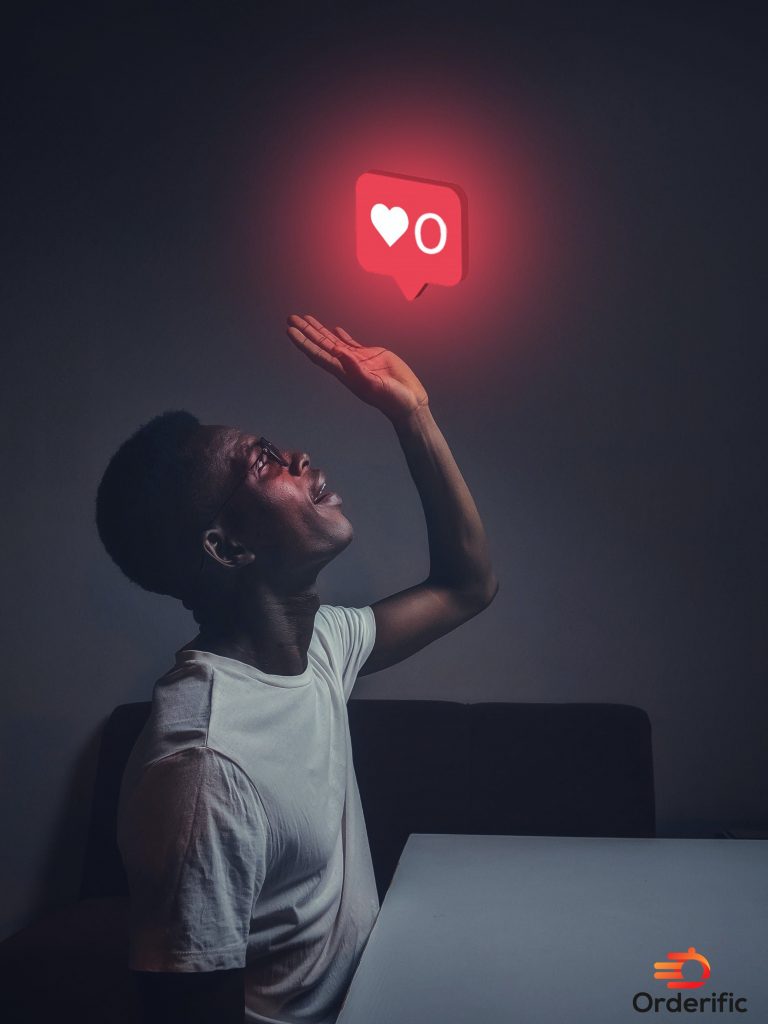 Leveraging social media for your cafe is about understanding and engaging with your audience. Use your platforms like Instagram, Facebook, and Twitter to promote your offerings and create a persona for your cafe. Showcase your unique brand ethos, commitment to quality, and passion for hospitality. Engage users with regular posts showcasing your mouth-watering dishes, vibrant cafe ambiance, or skilled baristas at work.
Social media also offers an excellent platform for feedback and interaction. Encourage your patrons to share their experiences, whether a customer posting a photo of her favorite latte or a diner leaving a positive review. Respond to comments and messages promptly and professionally, showing your customers that you value their input and are constantly striving to improve.
Remember, effective social media marketing is not about hard selling but about building relationships and fostering a sense of community. So, don't just broadcast, but interact. Celebrate your successes, share your challenges, and show your customers the people and the stories behind your cafe.
Social Engagement
Social engagement is a pivotal aspect of the modern restaurant social media marketing strategy. It helps build brand awareness and enhances your brand reputation. The key is to produce captivating social media content that resonates with your target audience and encourages interaction. From sharing tantalizing photos of your daily specials on Instagram stories to responding promptly to customer inquiries on Facebook Messenger, every action matters.
A successful social media strategy involves more than just creating a social media account and sporadic posts. Regularly updating your social media channels with engaging content is crucial. It keeps your followers intrigued, turning potential customers into faithful patrons. Strategic use of social media platforms can significantly bolster your local SEO efforts, empowering you to reach a wider audience.
Sprout Social is an excellent tool for streamlining your social media management. It offers functionalities like marketing automation and social selling, easing the process and making it more efficient. It allows you to listen to your customers, a key aspect of social listening, and tailor your service to meet their expectations, thereby improving your customer service.
Influencer marketing and email marketing can further amplify your reach, helping you tap into new segments of your target audience. Remember, each follower on your social media profile is a potential customer. Their engagement with your brand is often a testament to your compelling marketing strategy and high-quality content.
User-Generated Content
User-generated content is a powerful way to build authenticity, engagement, and trust for your cafe brand. Encouraging customers to share their experiences at your cafe on their own social media profiles not only generates more content for your brand but also provides real and relatable testimonials. You could encourage them to tag your cafe or use a specific hashtag related to your cafe in their posts. This could be images of them enjoying a cup of coffee, a snapshot of the meal they had, or their thoughts on the overall experience.
Curating and sharing this user-generated content on your own social media channels illustrates your commitment to customer satisfaction and gives your audience a glimpse into the experiences of real customers. This can significantly enhance your brand's credibility and foster a loyal customer base. Remember to always ask for permission before sharing user-generated content and to give credit to the original content creator.
Traditional Marketing and Social Media
In today's digital age, it's easy to overlook the power of traditional marketing. However, combining these tried-and-true methods with social media marketing can significantly amplify your cafe's brand visibility. Print ads, billboards, or radio spots can effectively complement your online presence, allowing you to target a broader demographic. For instance, a captivating billboard or flyer can pique interest, directing potential customers to your social media profiles for more detailed information, updates, and interactions. Meanwhile, your online platforms offer a two-way communication channel, fostering a sense of community and further enhancing customer engagement. By integrating both approaches, you create a comprehensive and versatile marketing strategy that leverages the strengths of each medium, ensuring your cafe's brand awareness reaches maximum potential.
Visual Content
In the world of social media, visual content reigns supreme. Striking images and videos of your cafe, its ambiance, your menu items, and even your team in action can significantly enhance your brand's appeal on platforms like Instagram and Facebook. They capture the imagination of potential customers, compelling them to engage with your brand. High-quality visuals help to tell your cafe's story, offering a virtual experience of what customers can expect when they visit. Therefore, investing in professional photography and video production can pay dividends in enhancing your presence and boosting your cafe's brand visibility.
Engage Personable
One of the most effective ways to connect with your customers on social media is by being personable. Show the human side of your cafe – feature your staff, share snippets of the daily cafe hustle, or showcase the preparation of your signature dish. Personal connections forged through these intimate glimpses can help your audience feel more connected to your cafe. Remember that people relate to people, not faceless corporations. So, let your brand's personality shine through in your posts, responses, and overall demeanor. This approach not only helps in fostering loyalty and trust but also adds a unique flavor to your cafe's brand story.
Organization And Consistency
Organization and consistency form the backbone of a solid strategy. Establishing a clear posting schedule and maintaining a consistent brand voice across all platforms can significantly enhance your cafe's online presence. This consistency extends to your visual branding as well – colors, logos, and image styles should align with your cafe's brand identity. Utilizing management tools can aid in scheduling posts and ensuring regular content updates. Remember, consistent engagement and presence are key to fostering a loyal online community that extends to your cafe's patronage.
Analytics
Harnessing the power of analytics is essential in shaping a dynamic strategy for your cafe. Tools like Google Analytics and Sprout Social provide valuable insights into user behavior, content engagement, and campaign performance. Such data-driven insights help identify what resonates with your audience, optimizing your content strategy accordingly. By tracking key metrics – follower growth, engagement rate, click-through rate, and conversions – you can measure the effectiveness of your marketing initiatives, making informed decisions to boost your brand's visibility and growth. Remember, analytics not only provides a snapshot of your current performance but also offers foresight into future trends, empowering you to stay ahead in the competitive landscape.
Conclusion
In summary, integrating social media into cafe management is a strategic move to build your brand. From harnessing the power of social listening expanding reach with multi-platform engagement, to leveraging user-generated and visual content, these strategies serve to elevate marketing, attract customers, and boost brand visibility. Traditional marketing methods, when combined with social media, can greatly amplify your brand's presence, reaching a wider audience. It's also essential to maintain a personable, organized, and consistent approach while utilizing analytics to shape your strategy. Remember, the effective use of it is not about hard selling but about building relationships and fostering a sense of community.
Interested in taking your cafe's social marketing to the next level? Schedule a demo with Orderific today to discover how we can help streamline your social management and boost your brand visibility.
FAQs
How does integrating social media with cafe management contribute to brand building?
Integrating it with cafe management enhances customer engagement, increases brand visibility, and fosters a loyal customer community.
Can cafes customize their social media strategies within cafe management systems?
Yes, cafes can tailor their strategies within cafe management systems to align with their unique brand identity and target audience.
What features in cafe management systems enhance social media integration for brand promotion?
Yes, cafe management systems often offer customizable strategies for optimal brand promotion.
Are there specific challenges cafes might face when implementing social media integration for brand building?
Yes, challenges may include managing customer feedback, maintaining consistent engagement, and creating compelling content.
How can cafes effectively engage customers and boost brand visibility through integrated social media strategies?
Cafes can boost brand visibility through regular, engaging content posts, prompt customer interaction, and strategic use of user-generated content.