Introduction
Supply chain, product sourcing, and vendor management are vital parts of effective supermarket operations, particularly with regard to sourcing and vendor management. Strategic sourcing, procurement, and supplier management play a critical role in ensuring a smooth flow of goods from diverse suppliers to store shelves. By focusing on supplier relationships, supermarkets can enhance vendor performance and manage multiple vendors efficiently. This hinges on robust vendor management software and understanding supplier codes. The successful integration of these elements is key to managing the supply chain, leading to improved supplier performance, and better vendor relationships, ultimately contributing to the overall effectiveness of supply chain management within the supermarket industry.
4 Benefits Of Vendor Sourcing
Strategic Sourcing: Strategic sourcing is a fundamental aspect of supply chain management in supermarkets. It allows businesses to select suppliers strategically, assessing factors such as cost, quality, and reliability. By applying strategic sourcing techniques, supermarkets can establish beneficial supplier relationships, leading to improved product quality and better procurement practices.
Vendor Management: Effective vendor management is crucial for maintaining a robust supply chain. By utilizing advanced vendor management software, supermarkets can efficiently manage multiple vendors, track vendor performance, and ensure a steady supply of products. This significantly enhances the efficiency of the supply chain.
Supplier Management: Supplier management focuses on maintaining and improving supplier relationships. It plays a significant role in procurement and sourcing processes in supermarkets. Effective supplier management can lead to improved supplier performance, increased supplier diversity, and a more efficient supply chain.
Procurement: Procurement processes are at the heart of the supermarket supply chain. Efficient procurement practices ensure the timely purchase and delivery of products from diverse suppliers. By enhancing procurement methods, supermarkets can streamline their supply chain, ensuring a consistent supply of products to meet customer demand.
Types Of Vendor Sourcing
In the supermarket industry, supply chain management plays a pivotal role, with a strong focus on sourcing and vendor management. Strategic sourcing is integral to the process, allowing supermarkets to identify suitable suppliers, thereby improving product quality and procurement processes. Vendor management, facilitated by competent vendor management software, is vital for effectively managing multiple vendors, tracking vendor performance, and ensuring a steady product supply.
Procurement practices ensure the timely execution of purchase orders and delivery from diverse suppliers, streamlining the supply chain and consistently satisfying customer demand. Supplier management, another important facet, maintains and enhances supplier relationships, contributing to better supplier performance and supplier diversity. This directly influences the effectiveness of the supply chain.
In essence, the intricate dance of supply chain management in supermarkets involves strategic sourcing and procurement from a web of suppliers, efficient vendor management, and a focus on fostering excellent supplier relationships. This multifaceted approach ensures a well-oiled supply chain, capable of meeting the needs of a dynamic customer base.
Steps Of Vendor Sourcing
1. Conduct A Needs Assessment
The first step in vendor sourcing is conducting a needs assessment. This involves identifying the specific requirements of the supermarket, including the wide range of products it needs to stock and any particular specifications tied to these products. A detailed needs assessment aids in determining the type of suppliers required, the volume of goods needed, and the frequency of supply. This step is critical as it lays the foundation for the sourcing strategy to follow. Understanding the supermarket's needs helps in aligning them with suppliers who can effectively cater to these requirements, ensuring a better fit and fostering a more successful business relationship. It's also essential to understand the current market trends and customer preferences during the needs assessment, as these factors will influence product sourcing decisions.
2. Evaluate The Market
After understanding your needs, the next step is to evaluate the market. This involves a comprehensive analysis of the supplier landscape to identify potential vendors. During this stage, supermarkets must consider factors such as the credibility and reliability of potential suppliers, their capacity to fulfill delivery needs, the quality of their products, and their pricing structure. The evaluation should also encompass reviewing past performance and reputation in the market. Equipped with this knowledge, supermarkets can compare suppliers and select those who align best with their sourcing strategy. It's also beneficial to stay informed about market fluctuations that can impact supply and costs. This proactive approach to market evaluation helps supermarkets to anticipate changes and adjust their strategies accordingly, ensuring a robust and adaptive supply chain.
3. Establish Vendor Prerequisites
Establishing vendor prerequisites forms the third step in the vendor sourcing process. This phase involves setting up criteria that prospective vendors must meet to be considered for partnership. Factors often include their capacity to deliver in terms of volume and timing, as well as their financial stability and track record in adhering to quality standards. Furthermore, supermarkets may also look into the vendors' ethical sourcing practices and their adherence to environmental standards. By setting clear prerequisites, supermarkets can streamline the vendor selection process, ensuring that only the most suitable and reliable vendors are chosen. This step contributes significantly towards building an efficient and responsible supply chain.
4. Create A Sourcing Framework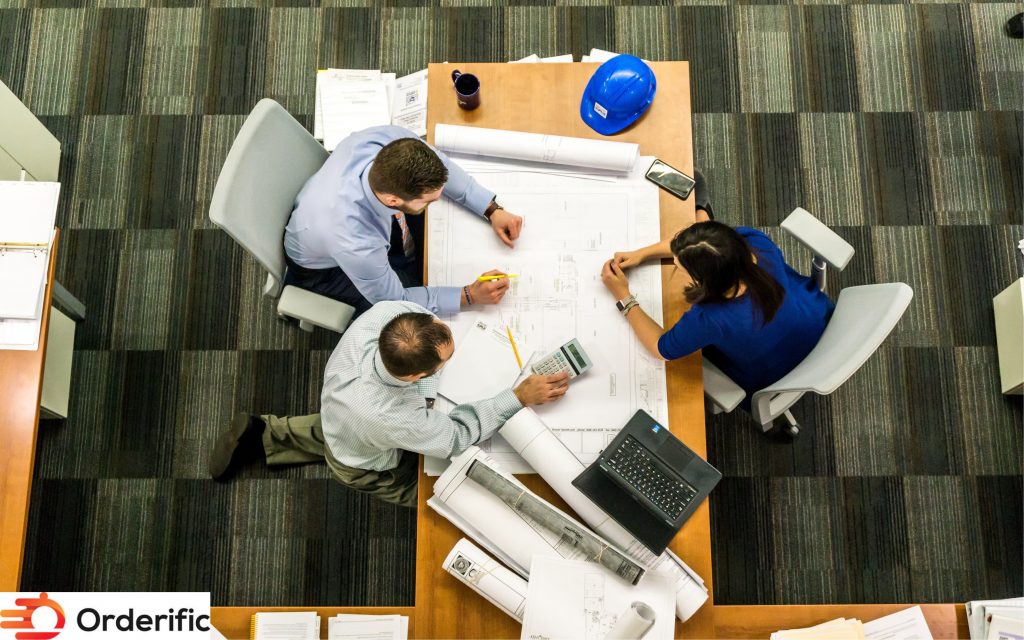 Creating a sourcing framework is the fourth step in the vendor sourcing process. This framework serves as a guide outlining the supermarket's sourcing strategy, including the selection and evaluation criteria for vendors, the negotiation of terms and conditions, and the management of vendor relationships. An effective sourcing framework should be adaptable, allowing for adjustments in response to market changes and business needs. It should also incorporate a strategy for risk management, to safeguard against potential disruptions in the supply chain. By outlining clear processes and expectations, the sourcing framework ensures a systematic and efficient approach to vendor sourcing, contributing to a reliable and effective supply chain.
5. Compile A Vendor Shortlist
The fifth step in the vendor sourcing process is to compile a vendor shortlist. This stage involves consolidating the information gathered during the needs assessment, market evaluation, and prerequisite establishment stages to identify the most suitable vendors for the supermarket's supply chain. The shortlist is essentially a collection of vendors that meet the set criteria and have shown the potential to fulfill the supermarket's needs effectively. It is advisable to consider a diverse range of suppliers to ensure a versatile and resilient supply chain. This shortlist forms the basis for the next steps in the sourcing process – vendor negotiation and final selection. By preparing a well-researched vendor shortlist, supermarkets can streamline their vendor selection process, fostering efficient sourcing and robust supply chain management.
6. Conduct Due Diligence
Conducting due diligence forms the sixth step in the vendor sourcing process. This step is essential for mitigating risks and ensuring that potential vendors are reliable, financially stable, and adhere to ethical and quality standards. During this phase, supermarkets thoroughly examine the selected vendors' operational capabilities, compliance records, financial performance, and market reputation. By investigating potential issues such as legal disputes or financial inconsistencies, supermarkets can avoid potential pitfalls and secure a more reliable supply chain. This careful examination ensures that the selected vendors can meet the supermarket's needs, contributing to a robust and efficient supply chain management strategy.
7. Select A Vendor
The seventh step in the vendor sourcing process is selecting a vendor. This crucial step involves finalizing the decision based on the insights garnered from the previous stages. The selected vendors should ideally align with the supermarket's needs, meet the established prerequisites, and rank high on the shortlist. Factors considered can include their ability to meet supply demands, uphold quality standards, offer competitive pricing, and maintain ethical sourcing practices. Once a vendor is chosen, a contract is negotiated and formed. The selection of a reliable and competent vendor is instrumental in ensuring the efficiency and resilience of the supermarket's supply chain, ultimately contributing to superior service delivery and customer satisfaction.
8. Negotiate Terms
The eighth step in vendor sourcing is negotiating terms. This involves discussions with the chosen vendor to agree upon fundamental aspects such as delivery timelines, product quality, pricing, and other essential terms. These negotiations aim to create a mutually beneficial agreement, ensuring that both the supermarket's needs and the vendor's capabilities are taken into consideration. It's vital to have clear, transparent communication during this stage to prevent misunderstandings and foster a resilient partnership. This process may also involve revising terms periodically to adapt to market changes and the evolving needs of the supermarket. Successfully negotiated terms contribute to an effective, efficient, and sustainable supply chain, aligning with the supermarket's strategic sourcing objectives and bolstering vendor relationships.
9. Execute A Contract
Executing a contract marks the ninth step in vendor sourcing. This crucial stage formalizes the agreement between the supermarket and the selected vendor, outlining the terms and conditions of the partnership in detail. It highlights crucial aspects such as delivery schedules, product quality parameters, pricing, and terms of payment. The contract also specifies the expectations and obligations of both parties, providing a clear roadmap for the business relationship. It is vital to ensure that the contract is comprehensive, legally sound, and mutually beneficial, fostering a transparent, sustainable, and productive partnership. The successful execution of a well-negotiated contract contributes significantly to a robust and efficient supply chain, fortifying the supermarket's sourcing strategy and reinforcing vendor relationships.
10. Measure Performance
Measuring performance is the final step in the vendor sourcing process. It involves monitoring and evaluating the vendor's adherence to the established terms and their overall performance. Key Performance Indicators (KPIs) like delivery punctuality, product quality, and adherence to pricing terms are typically used for this evaluation. Regular performance assessments can help identify any areas of concern and prompt timely corrective actions, ensuring the supply chain's efficiency, reliability, and resilience. Furthermore, these evaluations also provide valuable insights for future sourcing decisions and help foster a transparent and productive relationship with the vendor. Therefore, regular performance measurement is fundamental to a supermarket's strategic sourcing strategy, bolstering the robustness of the supply chain and ultimately enhancing customer satisfaction.
Best Practices For Vendor Sourcing
1. Identify Needs Before Vendors
Before commencing the search for potential suppliers, it's crucial to have a clear understanding of what you need from them. Start by evaluating your supermarket's needs, from the products you need to stick to the specific criteria these products must meet. By identifying your needs first, you set the benchmark against which you would evaluate potential vendors. Also, understanding your needs helps in aligning them with the right suppliers who can effectively cater to these needs, creating a more successful business relationship. Keeping abreast of the current market trends and customer preferences during this phase can also influence your product sourcing decisions positively. Therefore, a thorough needs assessment is a critical first step in effective vendor sourcing.
2. Take A Total Value Approach
Adopting a total value approach in vendor sourcing means looking beyond the initial purchasing price to consider the full lifecycle cost of a product or service. This holistic view encompasses factors such as the durability and maintenance cost of a product, the reliability of delivery, and the quality of customer service offered by the vendor. Additionally, the vendor's ethical sourcing practices and compliance with environmental standards can also be integrated into the total value assessment. By analyzing the overall value proposition of vendors, supermarkets can ensure that they are investing in a supplier relationship that delivers long-term value and contributes to a resilient, efficient, and sustainable supply chain. This approach promotes strategic decision-making in sourcing, optimizes resource allocation, and enhances customer satisfaction.
3. Keep Your List Short And Optimized
Keeping your list of potential vendors short and optimized is crucial in efficient supply chain management. Rather than creating a lengthy catalog of numerous suppliers, focus on identifying a select few that can best meet your supermarket's needs. This approach streamlines the sourcing process, making it more manageable and less time-consuming. Furthermore, having a condensed list of reliable vendors reduces the risk of supply chain disruption, as it's easier to monitor and manage a smaller group of suppliers. It also allows for better relationship building with vendors, fostering mutual understanding and cooperation. Therefore, a short and optimized vendor list is a strategic asset in sourcing, contributing to a robust, efficient, and resilient supply chain.
4. Consider Sustainability
In an era marked by increasing customer consciousness about environmental impact, considering sustainability in vendor sourcing has become crucial. Supermarkets should prioritize suppliers who demonstrate responsible sourcing practices and commitment to reducing environmental footprint. This encompasses factors like minimal usage of harmful substances, efficient waste management, and lower carbon emissions. Moreover, sourcing from local vendors where possible can reduce transportation and subsequently, carbon emissions, further enhancing the sustainability of the supply chain. Such practices not only contribute to corporate social responsibility but also resonate with eco-conscious customers, thereby enhancing the supermarket's reputation and customer loyalty. Thus, integrating sustainability into vendor sourcing promotes a more responsible, ethical, and future-oriented supply chain management strategy.
5. Conduct Regular Performance Measurement
Conducting regular performance measurements is a fundamental best practice in vendor sourcing. This involves routinely assessing the suppliers against set Key Performance Indicators (KPIs), including delivery punctuality, product quality, and adherence to pricing terms. By frequently evaluating the vendor's performance, supermarkets can identify any issues early on and implement timely corrective measures to ensure the efficiency and resilience of their supply chain. These assessments also offer valuable insights for future sourcing decisions, promoting transparency and fostering a productive relationship with the vendor. Consequently, regular performance measurement is an indispensable component of a supermarket's strategic sourcing strategy, enhancing the robustness of the supply chain and boosting customer satisfaction.
Conclusion
In conclusion, navigating the intricacies of supply chain, product sourcing, and vendor management is a critical aspect of supermarket operations. From identifying needs and assessing vendors to negotiating terms and measuring performance, each step of the process plays a vital role in creating a robust, efficient, and resilient supply chain. Integrating best practices such as a total value approach, maintaining an optimized vendor list, considering sustainability, and conducting regular performance measurements can significantly enhance supply chain management, ultimately contributing to customer satisfaction and business success. To further streamline your supermarket's supply chain management, why wait? Visit Orderific today to book a demo and discover how our innovative solutions can transform your business sourcing strategy.
FAQs
What is the role of product sourcing in the supply chain?
Product sourcing is crucial in the supply chain as it involves identifying and procuring necessary goods from suppliers to meet customer demands.
How can effective vendor management optimize the supply chain?
Effective vendor management optimizes the supply chain by ensuring consistent product quality, timely deliveries, and cost efficiencies.
What challenges are common in product sourcing for the supply chain?
Common challenges include supplier reliability, quality control, and managing logistics.
How do you ensure ethical practices in supply chain product sourcing?
Ethical practices can be ensured by adopting strict supplier vetting, adherence to regulations, and maintaining transparency in sourcing processes.
What strategies enhance vendor collaboration and management in the supply chain?
Strategies include transparent communication, regular performance assessments, and fostering mutual respect and understanding.