The realm of liquor, steeped in history and tradition, has long captivated connoisseurs and casual drinkers around the world. Each bottle, be it the smoky allure of an aged whiskey or the unadulterated purity of vodka, carries with it stories of its origin, craftsmanship, and evolution. 
As times change, so does the industry. With innovative brewing techniques, unprecedented flavor profiles, and avant-garde trends emerging, the world of spirits remains a dynamic and ever-evolving landscape. For both seasoned aficionados and those new to the scene, the journey through this enthralling world promises a sensory adventure like no other.
Types of Liquor and Their Characteristics
Whiskey and Bourbon
While both hail from the broad family of distilled spirits, whiskey and bourbon have their unique narratives. Whiskey, a versatile spirit, ranges from the smoky allure of Scotch to the light and floral notes of Irish varieties. Bourbon, with its mandatory 51% corn mash, offers a distinct sweetness and rich amber hue. Both, whether from Scotland's misty terrains or the American South's historic distilleries, are testaments to age-old traditions and craftsmanship.
Vodka and Gin
Vodka, the quintessential chameleon of liquors, provides a clean slate for mixologists, making it a staple in countless cocktails. Its purity and neutrality contrast starkly with gin, which boasts a diverse array of botanical infusions. From juniper berries to citrus peels, gin is a veritable botanical garden, offering a tantalizing taste with every variant.
Rum and Tequila
Rum, often dubbed the spirit of the Caribbean, carries notes of molasses and sugarcane, echoing tales of pirates and sun-kissed shores. In stark contrast, tequila, distilled from the blue agave plant, encapsulates the soul of Mexico. Its earthy undertones and sharp finish speak of arid terrains and passionate fiestas, making each sip a journey through time and culture.
Brandy and Cognac
Both derived through the distillation of fermented fruit juices, brandy and cognac are like siblings in the world of spirits. While brandy can be made anywhere globally and from various fruits, cognac is exclusive to a specific region in France and is often seen as brandy's more refined counterpart. Aged in wooden casks, they unravel layers of flavors, from fruity to oaky, presenting a luxurious experience to the palate.
Classic Cocktails and Modern Mixology
The Origins and Evolution of Classic Cocktails
Journeying back to a time when alcohol was forbidden in places like the United States, secret establishments known as speakeasies emerged, giving birth to many of the classic cocktails we cherish today.
Behind dimly lit doors, the Martini danced into existence, and in the warmth of sun-soaked beaches, the Margarita found its zest. Each classic cocktail, be it the cosmopolitan Manhattan or the tropical Pina Colada, has a tale of culture and history.
The Art and Science of Mixology
Far removed from simply pouring a drink, mixology is a craft, an alchemical process that merges precision with experimentation. It's akin to a dance where each step, from selecting the right spirit to adding the perfect amount of garnish, is choreographed to perfection.
In the world of mixology, a bartender doesn't just serve a drink; they narrate a story through each concoction.
Popular Cocktail Recipes and Variations
Classic cocktails, though timeless, are continuously evolving. Ever sipped a Mojito with a dash of coconut or an Old Fashioned kissed with chocolate bitters? 
Today, as tradition meets innovation, these beloved classics are getting inventive makeovers, ensuring they remain as relevant and delightful as when they were first crafted.
Creative and Artisanal Cocktail Trends
The cocktail scene today is in the midst of a renaissance. Bartenders, equipped with a wider array of tools and ingredients than ever before, are pushing boundaries. Herbal infusions, ice carved to perfection, smoking techniques, and even culinary elements are finding their way into glasses.
This shift isn't just about taste – it's about providing an immersive experience, ensuring each sip is a memory etched in time.
Tasting, Pairing, and Serving Liquor
Tasting and Evaluating Liquor
When diving into the art of tasting, it's a multisensory experience. From the initial aroma that wafts into your nose to the subtle aftertaste lingering on the palate, every spirit tells a story.
To truly appreciate and evaluate liquor, one must understand the vocabulary of flavors, recognize the balance of elements, and discern the quality of ingredients. Whether it's identifying the oaky notes in a whiskey or the fruity undertones in a rum, the joy is in the details.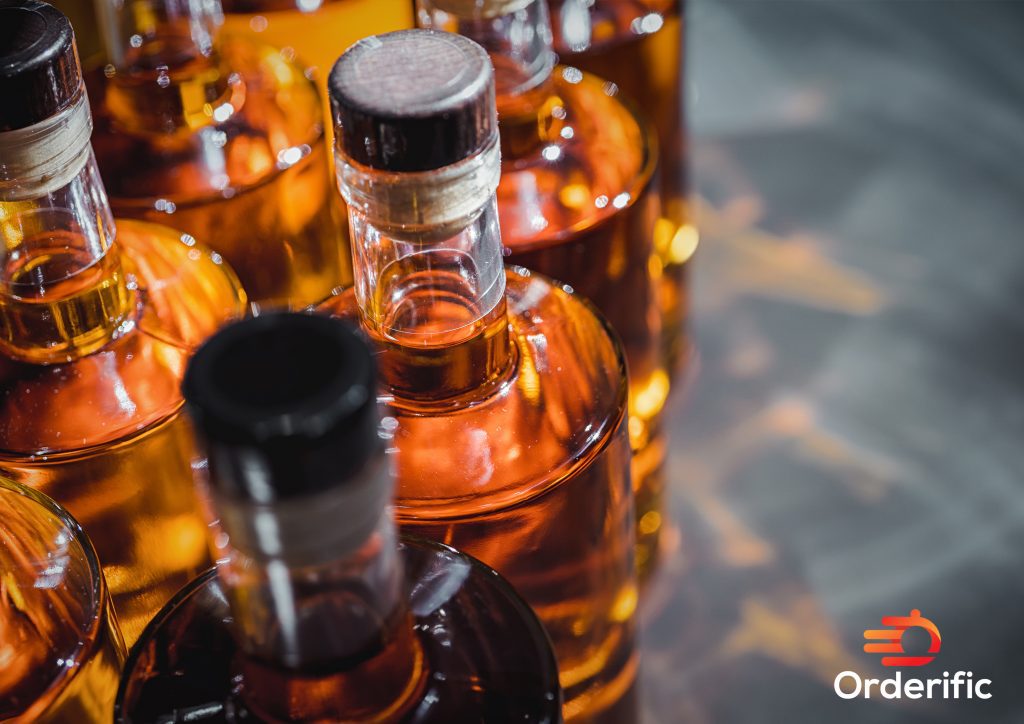 Pairing Liquor with Food and Desserts
The harmony between liquor and food is an exploration of flavors. A smoky mezcal might complement the char on grilled meats, while the sweetness of a bourbon can be paired beautifully with a chocolate dessert. It's a dance of tastes, where the spirit enhances the food's flavor, and vice versa, resulting in a symphonic culinary experience.
Serving and Presenting Liquor
The way a drink is served speaks volumes. It's not just about pouring the spirit into a glass but considering the temperature, the glassware, and even the garnish. Whether it's serving a cognac in a warmed snifter or presenting a gin with a twist of lemon zest, the right presentation can elevate the entire experience.
Essential Tools and Accessories for Liquor Service
The art of making and serving a perfect drink requires a set of specialized tools. A jigger ensures precision in measurement, while a muddler extracts the essence from fresh ingredients.
Shakers mix ingredients to perfection, and specialized glassware, from highballs to tumblers, ensures each drink is presented in its best light. These tools, in the hands of a skilled individual, can craft moments that linger in memory.
Trends and Innovations in the Liquor Industry
Craft Distilling and Small-Batch Production
The rise of craft distilling and small-batch production is a testament to the industry's commitment to authenticity and quality. These artisanal spirits often use locally-sourced ingredients, ensuring a unique flavor profile that reflects the terroir.
Moreover, traditional methods are often employed, with distillers infusing their personal touch, passion, and creativity into every batch. This dedication to the craft ensures each bottle tells a distinctive story.
Sustainable and Eco-Friendly Liquor Production
As the world becomes more environmentally conscious, the liquor industry is no exception. Distilleries are now looking at every aspect of their production, from sourcing sustainable ingredients to reducing waste and water consumption.
This shift is not only about protecting the planet but also about creating a product that consumers can feel good about consuming. After all, a drink tastes better when it's guilt-free!
Innovative Flavors and Ingredients
Gone are the days when spirits were restricted to a few standard flavors. Modern distillers are drawing inspiration from cuisines, cultures, and even perfumes. This has led to the introduction of unique flavors and ingredients, pushing the boundaries of what's possible in a bottle.
Whether it's a vodka infused with the spiciness of chili or a gin that carries the freshness of basil, there's always something new to tantalize the taste buds.
The Future of Liquor and Mixology
Technology and tradition are set to intertwine in the world of liquor and mixology. Imagine sipping on a cocktail that's been designed specifically for your palate by an AI.
Or stepping into a virtual reality bar where the ambiance changes with your drink choice.
With advancements in technology, the way we experience and enjoy our drinks is set to undergo a revolution, promising a future that's as exciting as the rich history of spirits.
Conclusion
Wrapping up this intoxicating expedition, the realm of liquor emerges as both boundless and captivating. Every bottle encapsulates more than just a drink; it holds stories, traditions, craftsmanship, and an ever-evolving narrative of flavors and experiences. With every corner of the world adding its unique touch to this spirited saga, the joy lies in exploration.
So, as you raise your glass for a celebratory toast or leisurely indulge in a serene sip, remember that the adventure of discovery is just beginning, with a new taste, tale, or tradition always on the horizon.
In case you want more content like this, visit Orderific right now!
FAQs
What is liquor and how is it different from other alcoholic beverages?
Liquor, distilled from fermented ingredients, has higher alcohol content than fermented beverages like beer or wine.
What are the main types of liquor and how are they made?
From whiskey to vodka, liquors are distilled and often aged for flavor.
How do you taste and evaluate liquor?
It involves nosing, tasting, and noting flavor profiles.
What are some popular classic cocktails and their recipes?
Cocktails like Margarita or Martini have timeless appeal.
What is mixology and how has it evolved over time?
Mixology is the art of crafting drinks, blending science and creativity.
How do you pair liquor with food and desserts?
Just as in wine pairing, it's about complementing and contrasting flavors.